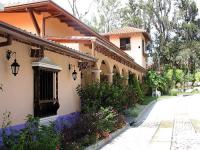 Hotel Belensate
Location
Mérida (The Andes, Venezuela)
Description
A short taxi ride from the city centre, with pool and gardens. Within walking distance of two recommended restaurants, La Campana (Italian) and La Viña (beef).
Accommodation
Standard rooms are fine, with either fan or air-conditioning, but semi-suites are the best option, in brightly coloured little houses in the gardens at the back of the hotel.
Our comments
Major building work during 2005 to improve the pool and restaurant areas. We have had reports of bad service in the past but local operators are still recommending this hotel.