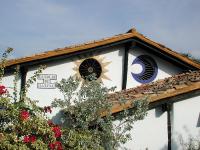 Solar de la Luna
Location
Buena Vista (Choroní and Morrocoy, Venezuela)
Description
A beautifully decorated 7 room property set up on a hillside with cooling sea breezes and not far from Morrocoy National Park.
Activities
There is a large open lounge area and jacuzzi (but no pool) and Morrocoy National Park is nearby.
Accommodation
The rooms and common areas are beautifully decorated with every attention to detail. Rooms have air-conditioning and fans. Breakfast and evening meal are included.
Our comments
Beautifully done but in a strange location and not ideal if you don't have your own transport as they do not provide transfers down to the sea for island excursions.