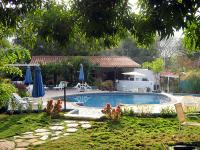 La Casa de las Garcia
Location
Choroní (Choroní and Morrocoy, Venezuela)
Description
A charming colonial house with 11 rooms around a beautiful courtyard with antique furniture. Breakfast is served in the gardens and candle-lit dinner in the courtyard can be prebooked.
Activities
Choroní is a great base for walking in the Park, an area of over 100,000 hectares of Cloud forest. There are numerous trails, best explored with a local guide (easily arranged through the hotel). The Posada is a 15 minute walk from the little fishing village of Puerto Colombia and its huge local beach, and short boat trips can be taken to the quieter, more remote beaches. It is in Puerto Colombia that most of the night life is centred around, with a number of small bars and restaurants. There is a wonderful cacao plantation at the village of Chuao, which is used to make some of the best quality chocolate in the world.
Accommodation
Rooms have hammocks and are furnished with local textiles.
Client comments and reviews
The road trip to Posada Las Garcias was great. Luckily I was feeling better as the roads were very windy! We spent the first day on the beach and exploring the area. We went on a jungle walk on the second day and saw a sloth in the trees (which was amazing). A few big spiders too but I didn't get too close to those. The hotel itself was nice, clean and friendly but not as luxurious as I would have hoped. - E&CC (July 2010)
This hotel was stunning and we really liked Choroni and the surroundings. We enjoyed chatting to the owner (the posada is still family-run which we liked) and the food, served in the beautiful gardens, was very good. We enjoyed the pool too. - MB (February 2010)
Choroni didn't quite live up to expectations, because the hotel only knew of one English-speaking guide, who was in hospital, so we weren't able to get the guided tour of the National Park. We used the time instead to chill out ready for the Galapagos, but felt a little abandoned there. The hotel was very nice, though. - HS (October 2008)
La Casa de las Garcia is quite delightful - it was a temptation not to leave it. - JT (October 2007)