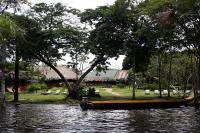 Waku Lodge
Location
Canaima lagoon (Canaima and Angel Falls, Venezuela)
Description
A lovely lodge on the banks of the Canaima lagoon.There are extensive gardens full of tame wildlife (toucan, macaws, various parrots, woodpeckers) and all meals (buffet style) are included, though drinks are extra. The Canaima lagoon, where the Carrao river plunges over a series of falls, is one of the most spectacular sights in Venezuela. Included in your stay is a short canoe trip around the lagoon.
Activities
There are many other optional excursions including a visit to Sapo Falls or a fly-past of the Angel Falls (highest in the world at 979m, nearly 1 kilometre). These can be organised with the hotel locally.
Accommodation
Rooms have terrace with hammocks, ensuite bathrooms and air-conditioning.
Our comments
A lovely hotel with an unbeatable location on the edge of the lagoon. A perfect base from which to explore this region.
Client comments and reviews
Waku Lodge was beautiful in a different way to the Orinoco Delta Lodge, but equally special. This place was particularly special for Carlos and he said that the flight over angel falls was the most amazing thing he has ever done! He also went on the Sapo Falls trip which was great apparently. My memories of Waku Lodge, on the other hand, include eating bread and butter for three days and visiting the 'jungle doctor' twice. - E&CC (July 2010)
We got quite used to sleeping in hammocks but did appreciate the luxury of Waku Lodge when we got there after the 4 days of our river trip adventure. - JV (September 2008)
Waku was incredibly beautiful and all the excursions were just superb. - SC (October 2007)