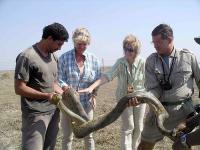 Robert Sonderman's Air Safari
Location
Canaima and Gran Sabana (Canaima and Angel Falls, Venezuela)
Description
Bob flies his own 6 seater Piper Aztek plane into remote regions of this wonderful landscape. On his safari trips, he uses rustic but comfortable lodges as overnight accommodation for his passengers, often near Indian villages.
Accommodation
Typically Indian-style cabins with private facilities and a choice of bed or hammock.
Our comments
Travelling with Bob on his air safari is a great way to experience a little-known part of Venezuela.
Client comments and reviews
We had the most amazing time. I was invited by the local community to be part of their baby naming ceremony and had to hold the baby and give it a Spanish name. We were the first visitors they had seen for almost a year. Bob was an excellent host and even let K fly the plane. - HD (October 2007)