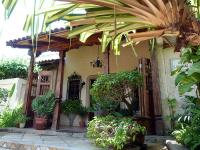 Los Robles Hotel
Location
Managua (León and Managua, Nicaragua)
Description
A charming colonial hotel in a quiet residential area and within walking distance of shops and restaurants. Originally a family house it has a central courtyard and contains many original features, antiques and typical furnishings from Nicaragua. There is a small garden, outdoor pool, restaurant for breakfast (only) and communal lounge area.
Accommodation
The 13 rooms are situated around a courtyard with a tropical garden, patio and fountain in the centre. They are traditionally furnished and well equipped.
Our comments
Very friendly and the staff speak good English.