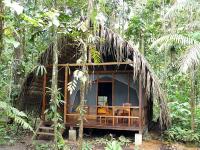 Huaorani Ecolodge
Location
Southern Amazon (The Amazon, Ecuador)
Description
Temporarily closed due to oil exploration pressures
A unique lodge in terra firma rainforest, near Quehueri'ono in the north-western part of the Waorani (or Huaorani) territory. Access is by road from Quito to Shell (around five hours) and then light aircraft and canoe. The Huaorani have long inhabited the headwaters of the Amazon, living as nomadic hunter-gatherers with no outside contact until the end of the 1950s. Their community was very involved in the construction of the lodge and are also the predominant staff.
Activities
Nature walks, bird watching and canoe trips (the traditional canoes used for guests do not use motors). Visitors have the chance to join in with members of the community as they go about their daily activities.
Accommodation
Five Huaorani-style, palm-thatched cabins (named after the Huao communities of the Shiripuno) are spread along the riverbank. They are built with local wood and each is fitted with a modern tent inside, and a front porch. All cabins have twin beds and a private bathroom equipped with a shower and flush toilet. All the produce is bought locally, solar electricity is used and a bio-filter renders all waste products either recyclable or harmless before being discharged into the river.
Our comments
A very special cultural experience where you will meet and interact with the Huaorani people. The amount of wildlife in the immediate area has been reduced due to previous hunting, although there is recent evidence that some wildlife is slowly returning.
Client comments and reviews
Thoroughly enjoyed our stay here and feel very priviliged to have spent time with these people. Our guide that looked after us with the Huaorani was fantastic, his knowledge and skills in dealing with the locals were a credit to him and made our trip all that more special. - GD (January 2011)
Highlights for me were the Huaorani Lodge for the cultural and real Amazonian experience! - GH (August 2009)
For us meeting the Huaorani was a real highlight. It was such an amazing experience and we thank you for suggesting it to us, it was just the kind of cultural interaction we were hoping to have. - M&UK (April 2009)