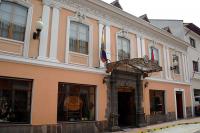 Patio Andaluz
Location
Historic centre (Quito, Ecuador)
Description
The Patio Andaluz is a colonial-style hotel in the heart of Quito Old Town. It has 2 courtyards, a reading room, restaurant and bar.
Activities
Cooking classes are available for guests to learn how to cook traditional dishes.
Accommodation
The 32 generously-sized rooms, set around the courtyards, are quiet and comfortable.
Our comments
The Patio Andaluz is an excellent option when looking for a well-situated and comfortable Ecuadorian hotel.
Client comments and reviews
The Hotel Patio Andaluz is well-placed, well-staffed and an excellent starting point. - RS (January 2017)
We had a comfortable room on two levels which was fine. The rooms are a bit dark but that is the style of the building and it really didn't matter too much. The bed was comfortable as were all the beds we slept in. - CH (February 2013)
The Patio Andaluz was a good choice - perfectly situated. - RM (March 2011)
Hotel Patio Andaluz was excellent, we had an enormous room and very good to be in the old town. Breakfast was good but otherwise the food there was uninspiring and expensive, we would definitely recommend walking down to Independence Square and eating in one of the restaurants in the Old Bishops Palace. - BP (August 2010)
The Ecuadorians were delightful, particularly the welcoming staff in the restaurant of the hotel Patio Andaluz. - DH (December 2009)
Patio Andaluz was lovely. Its location in the old town was superb. - CH (March 2009)
I consider the Patio Andaluz as one of the best hotels I have ever stayed at for the beauty of the building, the comfort of the room and the friendliness and competentness of the staff. The position in the old city is unrivalled. - JC (February 2009)
This is in a perfect position for exploring the historic centre and is a very comfortable base in Quito, with lots of places within the hotel in which to relax. Food was good and staff very helpful, we would return. - JF (September 2008)
The Hotel Patio de Andaluz was very good. We had a pleasant quiet room at the rear of the hotel. The staff were friendly and the food was good. - DV (April 2008)
Patio Andaluz was lovely and perfectly situated for exploring the Colonial district. We kept bumping into people we had met at Cusin who were very envious of our choice of hotel. - JG (January 2008)
Another great hotel, excellent food, friendly staff and a great location. - RB (September 2006)
The hotel in Quito was also excellent. They had two musicians singing with guitars and flute (two evenings that we had a meal there). They were amazingly good and created a great atmosphere. - AH (August 2006)