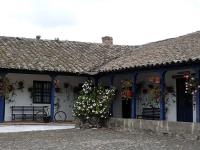 Hacienda Zuleta
Location
near Otavalo (Otavalo and surrounds, Ecuador)
Description
85km north of Quito in the Zuleta Valley. A beautiful colonial, family-run, working hacienda set at 2,800m with lots of history, in the tiny village of Angochuagua. It is set around a couple of cobbled courtyards, lined with geraniums, with lovely views up the valley and there is a tiny chapel, cheese factory and impressive organic vegetable garden. There is a wonderful sitting room with an open fireplace and the food is good.
Activities
The hacienda owns around 2,000 hectares with many cattle and horses. Activities include walking, a visit to the cheese factory, introduction to the Condor Huasi Project (works for the rehabilitation of the Andean Condor) and riding (additional cost). It is also a wonderful place to relax and enjoy the surroundings.
Accommodation
There are 21 rooms in total; all rooms are comfortable, maintain their original charm and are tastefully furnished with beautiful polished floors and antique furniture. Most rooms also have a wood burning fire. The deluxe rooms and junior suites are highly recommended, many with lovely views down the valley and better bathrooms.
Our comments
Full of character and charm, this working hacienda is a wonderful place to relax or if you prefer to keep busy, they offer a wide selection of tours and activities (on and off the property).
Client comments and reviews
Hacienda Zuleta - lovely place, very friendly staff and fantastic horses which are perfect for beginners and experienced alike. We enjoyed going to the Condor centre up the valley and walking in the area. - JF (January 2015)
Top tops were Otavalo and Hacienda Zuleta, (loved the countryside, condors, riding, markets - leather village too). - TS (January 2015)
We all very much enjoyed Zuleta and had a wonderful time on the fantastic horses (even though big we all rode, even in the rain with big ponchos). We also enjoyed visiting the embroidery shops and cheese factory there. - JK (July 2010)