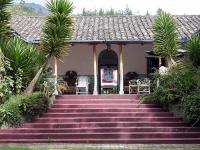 Hacienda Cusin
Location
near Otavalo (Otavalo and surrounds, Ecuador)
Description
The hacienda is 70km north of Quito. Dating from 1602, with a cobbled courtyard, antique furniture and wonderful gardens, it is full of history.
Activities
Riding, walking, fishing (lake trout), mountain bikes, squash, reading, painting, writing, birdwatching. The famous market at Otavalo (Wednesday to Sunday) is nearby, as is the water-filled volcanic crater of Cuicocha.
Accommodation
Owner's suite, several cabañas in the lovely gardens, more rooms in the old hacienda and a separate 'Monastery' building mainly for groups. Many rooms have unique features and fireplaces.
Our comments
The hacienda was founded in 1602, and in 1990 its English owner converted it into a pleasant country inn, with a wonderful garden and grounds. In the surrounding areas it is possible to visit many types of craftsmen, from weavers to wood-carvers. Everything is well organised and there is a programme of walks and rides that should keep you occupied for several days.
When to go
Open all year round. The garden is at its best in November.
Client comments and reviews
Hacienda Cusin was great, I loved the touches of the fire lit every evening in our room and the hot water bottles in our bed, the staff were very helpful and it was so interesting looking around the local area. - FV (April 2023)
Great staff and good food, but the menu we did find a bit repetitive. The rooms were cold as they didn't light the fire until 7pm and the little electric radiator heater was very poor and turned off when the room was serviced. The gardens are well kept and very pretty. - MB (May 2023)
We were very comfortable at Hacienda Cusin in our cross between a Hobbit-house and a tandoori oven in the garden! We had a lovely 2-hour ride and we had a fascinating tour of Otavalo and the surrounding villages. - RS (January 2017)
Hacienda Cusin was a great way to end a wonderful holiday. - IM (May 2016)
Hacienda Cusin was fine, it?s just that we found the décor and atmosphere a bit creepy (lots of religious paintings with limbs missing etc!). The menu was a bit limited but the staff (except one receptionist ? maybe she had an off-day) were always smiley and charming. My wife enjoyed the riding and me the massages. - DS (February 2016)
At Hacienda Cusin I was given a choice between a garden cottage or a room in the main building (I opted for the latter for ease of getting to the restaurant in the evening). The staff gave me a map of hikes and recommended a flat one for new arrivals in Ecuador. - DP (January 2014)
Hacienda Cusin was really lovely with beautiful gardens and a very spacious and comfortable little garden cottage. Otavalo was busy and great fun rushing from one stall to the other. We arrived late in the day as we visited Mitad del Mundo on the way but we did pop back the following day to do a bit more 'touristy' shopping. - CH (February 2013)
Hacienda Cusin was good. We enjoyed trips around the area, plus use of the horses and games room. The accommodation and food were very good, and the staff were very friendly and helpful in procuring taxi services to take us to local sights and villages. The bikes need a bit of attention though - we gave up on them! - CW (April 2009)
At Cusin I stayed in a charming room in a little garden cottage overlooking a small pool. Although Cusin is now quite large and receives several groups, having the library and sitting areas, as well as the wonderful restored and newly constructed buildings help maintain a more intimate atmosphere. Also what a wonderful garden. - JC (March 2009)
Hacienda Cusin we enjoyed a lot and was fun to see another side of the area. Horse riding was good for both of us, as was the mountain biking. We think the Hacienda needs some work to make it truly ?special? but is still a great place. - MD (January 2009)
We loved our garden cottage at Cusin, sitting on our front porch watching the birds and the flowers around the pond right in front of us was magical. Once the fire in the bedroom had been lit, it was very cosy. The rest of the hacienda is beautiful too - lots of care and personal attention had obviously gone into creating such an unusual but welcoming place to stay. - JF (September 2008)
Finishing our trip at Hacienda Cusin was perfect, we were pretty exhausted after Peru and the Galapagos and here we were able to recover before returning home. It is so lovely, we could not fault anything - the highlight of Ecuador for us. - DP (August 2008)
Cusin is a facinating place and the food excellent, but colder than expected. We had a ride one morning which was good and did a couple of walks, but the hotel directions were not the best! - IT (February 2008)
Hacienda Cusin was delightful and a great place from which to visit the area and get a real feel for how people live. We had an excellent day's tour with Marco from Tours Unlimited. All the TU guides based in Quito were excellent - really well informed, enthusiastic and excellent English. - JG (January 2008)
A beautiful estate, with fine interiors and well-kept gardens. It is advisable to stay at least 2 nights and enjoy the walks and horse rides, as we did, rather than visit for just one day. We recommend the log fires and hot water bottles in the bedrooms on cool nights! - AM (February 2007)
Hacienda Cusin was an oasis of calm which we enjoyed to the hilt. What a lovely place. We had 2 hours on the horses on one day and enjoyed it so much (bum bones protesting) that we booked for the next day and were rewarded with an even better ride. - MS (October 2005)
Hacienda Cusin was very good. The place is full of character. Very comfortable with big log fires in the rooms. Food was excellent. - CP (May 2005)