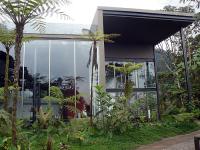 Mashpi Lodge
Location
Mindo Cloud Forest (Mindo, Ecuador)
Description
3 hours from Quito, Mashpi is Ecuador's first 'design' jungle lodge. It has been cleverly constructed to maximise the experience of being in the middle of some of Ecuador's finest cloud forest and is surrounded by a 1,200 hectare reserve.
Activities
2km 'dragonfly' canopy gondola, nature trails, orchid collection and butterfly centre. Massage and treatments.
Accommodation
19 standard (Wayra) rooms, some of which can interconnect, and 3 suites (Yaku). Only the suites have baths, the rest have showers.
Client comments and reviews
Mashpi is extraordinary and really very well worth visiting. So much more than a hotel. - GE (April 2023)
Mashpi Lodge was every bit as marvellous as I expected it to be, but I would like to go back when they have finished the canopy cable car. Everything about the place was perfect, including the staff who couldn't do enough for you. One lunchtime I chose not to have any meat but ate only rice and vegetables, and the chef came out and offered to cook something else for me as he assumed (wrongly) that I didn't like all the choices that were on offer. On our last night we had dinner with the only other two guests and the manager, Roberto (who bought us a very expensive bottle of Krug!). It was a bit of a wild night but we were all up the next morning for the walk - if a little jaded and a little late! - SP (January 2013)
Our stay at Mashpi was wonderful and we were very well looked after by the manager and staff. We were pleased to have three nights to be able to fully appreciate the Cloud Forest and we did some short walks (bit muddy at times!). It was a very different experience to our Galapagos cruise but another highlight of our overall trip. - ML (October 2012)