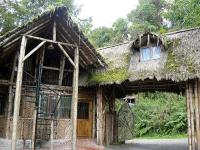 Bellavista
Location
Mindo Cloud Forest (Mindo, Ecuador)
Description
2 hours north west of Quito, high in the cloud forest with comfortable, rustic accommodation. This is a paradise for hummingbirds and the views on a clear day are spectacular. There are several walking trails surrounding the property which can be explored independently or with a guide.
Activities
Birding, archaeology, mountain biking, rafting, riding, visit to butterfly farm, trips to waterfalls, and a network of trails to self explore.
Accommodation
Rooms are rustic and very simple but do have private facilities.
Client comments and reviews
Mindo cloudforest is really for birders, but we loved it - in spite of rain! Bellavista a delight! - JW (February 2011)
I liked the welcoming informality of the Reserva Bellavista and I had a lovely view in a little suite. For anyone interested in birds what could be better than to stay at Bellavista with those many humming birds. The pre-dawn visit to the rare site to see Cock of the Rock was a highlight of my visit. I was taken by a local guide with special knowledge of birds - the Cock of the Rock were there although a litle elusive (they were trying to avoid a kite). The walk with the owner of the land on the ancient yumbo path and the visit to the beautiful waterfall, supposedly haunted by evil spirits, added to the visit. - JC (February 2009)
Bellavista was excellent. Superbly situated with an astonishing variety of birds (hummingbirds especially). Staff were friendly and the guides were knowledgable. - EB (March 2005)