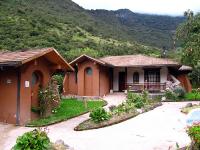 Termas de Papallacta
Location
Papallacta (Cotopaxi and Papallacta, Ecuador)
Description
A thermal spa resort 60km east of Quito in the highlands between Cayambe and Antisana volcanoes. There is a restaurant with steamed trout as the local speciality.
Activities
Various spa therapies are available (at additional cost) and guided hikes and riding can be booked locally
Accommodation
There are 32 cabins with thermal pools set aside exclusively for guest's use.
Client comments and reviews
With stunning views of the mountains, and hummingbirds in the trees close by, it really is very special. The staff are not over friendly, but the longer we stayed the more friendly they seemed to get. - RB (September 2006)