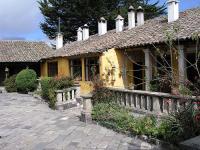 Hacienda San Agustin de Callo
Location
Cotopaxi (Cotopaxi and Papallacta, Ecuador)
Description
Situated at the foot of the highest active volcano in the world, Cotopaxi. The colonial hacienda is on the site of an important Inca palace, with views of Cotopaxi and Chimborazo. Cobbled courtyard, gardens and sitting rooms for reading and relaxing. Good cuisine and hospitality.
Activities
The hacienda offers riding, mountain biking and excursions to the nearby Cotopaxi National Park or the important markets of Saquisilí, Pujilí and Zumbahua (all at extra cost). There is also a rose plantation 10 minutes walk away.
Accommodation
Five rooms are around the central courtyard (3 standard rooms and 2 suites), with 2 others in a separate annexe (where there is a separate living room and kitchen). All beautifully decorated with fireplaces.
Our comments
San Agustín was built from the remains of an Inca Palace and was also at one time an Augustinian convent. There is a superb example of the classic Inca stonework in the present-day chapel. Very much still a family home, the rooms are beautifully decorated with some particularly fine murals. Very good home cooking. Not much English spoken.
When to go
Open all year round. May to October may be drier.
Client comments and reviews
San Agustin - lovely hacienda again in beautiful surroundings. We found the trip up Cotopaxi quite tough as we weren't really used to the altitude. They provided us with a good lunch. - JF (January 2015)
Hacienda San Agustin at Cotopaxi was a real highlight - with its llamas, Inca walls and mountain views. - TS (January 2015)
Hacienda San Agustin de Callo was a delightful stop. Our room was really wonderful with a log fire in the bedroom and bathroom and a very useful fly swat! One felt the history of the place with the original owner's daughter very much present but discreetly in the background. The visit to the rose plantation was a real eye opener and we were really pleased to have gone there. Also the market at Saquisili gave us a real insight into the local indigenous population and was very colourful and the subject of some great photos. - CH (February 2013)
Hacienda San Agustin de Callo was a beautiful place to stay for one night and for experiencing eating in a dining room with Incan walls. This was the only place we stayed where the food was just so-so - it was fine, but not nearly at the level of everywhere else we stayed. But it was worth staying there if only for the history, and the llamas! We loved the way they'd be brought into the courtyard to greet new guests, with baskets of carrots for us to feed to them - and they way they'd calmly file out and back to their pasture at the sound of clapping hands. (We'd love to be able to train our two cats to leave a room on command when we clap, but we're obviously not using the right training techniques!) - NC (January 2009)
San Agustin was fabulous. Our villa was perfect and the Swiss couple running the hacienda spoiled us rotten, the food was fantastic, our children spent their time between the kitchen and the stable. The horses were not as well trained as in Zuleta but we were blessed to have some of the staff from Zuleta visiting San Agustin while we were there so we had a wonderful dinner with them all one of the evenings and rode with the head horse guy from Zuleta the next day. - JK (July 2010)
We thought San Agustin de Callo was exceptional. The rooms were amazing and the staff were absolutely brilliant. We enjoyed a good ride in the park on horses somewhat more lively than those at Cusin (which pleased the kids immensely) and the trip up the volcano had to be done although a couple of the party (not me or my son) found it hard! Being somewhat more isolated, more idiosyncratic and feeling less touristy than Cusin, it was great for us. - CW (April 2009)
This was my favourite room - the Mulalo Suite was beautiful and I wish we had had more time there. Again, the food was excellent. - MR (December 2008)
Hacienda San Agustin - interesting Inca history, excellent food and the owner, Mignon, is very welcoming - SM (April 2008)
San Agustin is an amazing place. Everyone was most pleasant, the rooms were very comfortable and the food excellent. We enjoyed Cotopaxi National Park and had snow! - IT (March 2008)
The accommodation is very special. The real log fire in your room and the hot water bottle in your bed, makes it even more so. - RB (September 2006)
We particularly fell in love with Hacienda San Agustin - the frescoes, the open fire and the antique bath are my kind of heaven, I could have stayed for weeks. - JF (September 2001)