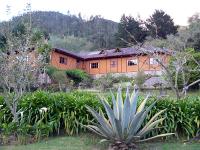 Hacienda Manteles
Location
Patate (Baņos and Riobamba, Ecuador)
Description
This homely hacienda is in a tranquil spot surrounded by forest and pretty gardens at the top of an Andean valley near Patate. Nestled between the Sangay and Llanganati National Park and with stunning views of Tungurahua volcano. There is ample room to relax and dine.
Activities
Biking, riding, nature and orchid trails, visits to local markets, agricultural tours, spanish lessons, cooking lessons, fishing and birdwatching.
Accommodation
16 rooms all cosy and welcoming with private facilities.
Client comments and reviews
Hacienda Manteles was lovely in so many ways - the staff, the great food, very comfortable rooms, the beautiful cloud forest with walking trails, hummingbirds always at the feeders in front of the dining room windows, and great dogs for company on hikes. It was super that they have Wellies on hand in all sizes, and they were so handy for going on hikes to see the local waterfalls, and in going on other walks around the farm and area. We loved spending three nights there - it was so relaxing. We were lucky that, every afternoon we were there, there was a period of around an hour when the cloud cover lifted enough for us to get good views of the Tungurahua volcano, with white steam coming out of it. - NC (March 2011)