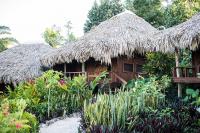 Lamanai Outpost Lodge
Location
Lamanai (The Highlands, Belize)
Description
Run by Mark and Monique Howells, extremely friendly, personal service and a unique location. The jungle-shrouded Lamanai is one of the country's largest Mayan sites.
Activities
Fishing, a medicinal trail, night safaris, jungle expeditions, sunrise canoe trip and water sports on the lagoon.
Accommodation
Comfortable thatched wooden cabins beside the vast New River Lagoon.
Client comments and reviews
Just lovely! We were the only people there which suited us fine. The guides were very good, as was the food. - MM (September 2014)
Wonderful wildlife and good excursions. - RS&MP (May 2008)
We all loved Lamanai, had the best rum and lime cocktails ever and we used 5 of the 6 standard experiences (two per night stayed), and one expensive option but well worth every cent. It was to go out at night on an air boat to see and catch a crocodile which was then tagged, weighed (20lbs), measured (4'8"), sexed (male) and released back into the wetlands. The data goes to Florida University. - JH (March 2007)