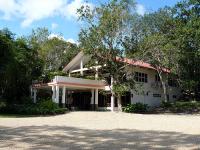 Ka'ana
Location
near San Ignacio (The Highlands, Belize)
Description
A few minutes drive from San Ignacio, this hotel is a good option for those wanting to visit the Cayo District but wanting to be based away from the forest! There is a pool, a mini spa, and very good restaurant and bar.
Activities
The hotel can arrange visits to local sites such as Xunantunich or Caracol, but also walks into the nearby forest.
Accommodation
The most simple rooms (Queen rooms) are near the spa and are a bit smaller than the others. The Queen and King Villas are more spacious with a seating area and terraces to the front and back of the rooms. All rooms have a complimentary bottle of champagne in the fridge!