From colonial towns to the remains of Jesuit missions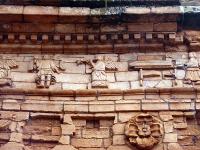 In the east of the country is the bustling capital Asunción and Areguá, just 28 kilometres from the city, on the shores of beautiful Lake Ypacaraí. The lovely surroundings, colonial architecture and cobbled streets give this quaint town a unique charm; it is also well known for its strawberries (the best in Paraguay) and its skilled artisans. Yaguarón has a Franciscan mission still in active use, while in Sapucay railway workshops in Villa Inglesa are abandoned and rather hauntingly tragic: old steam engines and carriages, lathes, and an enormous steam engine from Lincoln with three boilers compete for space with dusty documents, ledgers, and general paraphernalia. The railway line ran between Buenos Aires and Asunción, and in an attempt to guarantee its competitiveness no road was allowed within 40 kilometres of the tracks.
To the south the remains of mission settlements built by the Jesuits in the 18th century lie amongst lush, tropical forest near the banks of the Paraná river, source of the rich, red earth that is a feature of this area.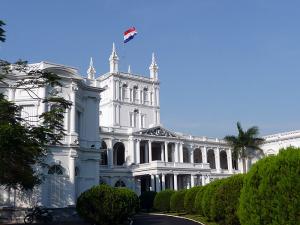 The pleasant capital, Asunción, becomes a hub of life during the week, but is more like a quiet village on a Sunday when locals head out of town or spend time with their families. It is easy to travel around, and the smell of jasmine often lingers in the air. The river front on the Paraguay river is busy and vibrant. There are several small towns within easy reach of Asunción, all with their own charms. »»
Vestiges of the fine craftsmanship by the Guaraní Indians who were trained in the missions are scattered around the towns of Trinidad and Jesús. The Jesuit museum at San Ignacio Guazú is a testament to their work, and one of the most significant social experiments on the South American continent. Santa María, whose mission was founded in 1669, now sadly burnt down, has a pretty square with monkeys, and a good little museum with a charming nativity scene in statues (unique among the Reductions). To the south-east lies Ciudad del Este, a major trading centre and the closest point in Paraguay to the Iguassu Falls. »»