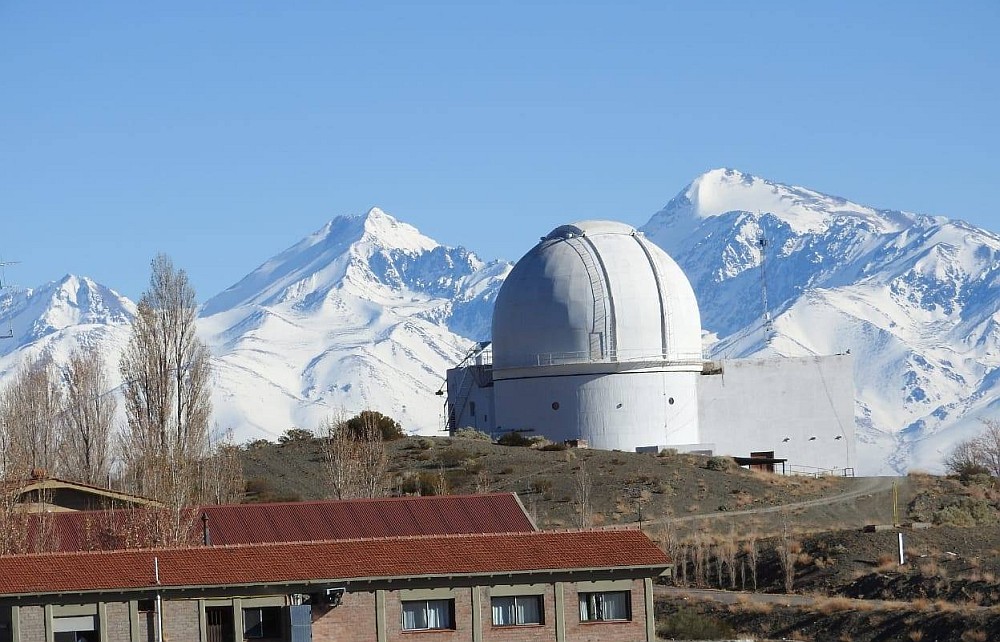 Argentina: Astronomy & Wine
with Oxford's Professor of Astrophysics
15-27 November 2022: Explore cosmopolitan Buenos Aires, the Argentine Lake District and beautiful national parks of Welsh Patagonia, and vineyards around Mendoza. Visit Argentina's two most important observatories, with insights and fascinating lectures from Professor Davies.
To enquire about this itinerary, or one like it, please email us or click the Enquire button.
Itinerary summary
Tuesday 15 November 2022 - Arrival day (Buenos Aires)
For UK participants, the recommended non-stop flight from London Heathrow with British Airways departs around 10pm on Monday 14 November and arrives in Buenos Aires on Friday around 9am. Other flights can be met on request.
Those arriving on this flight would have the whole afternoon to explore central Buenos Aires.
Buenos Aires
Argentina's capital is a cosmopolitan city, often referred to as the Paris of South America, with fine hotels, shops, and colonial buildings. On the banks of the River Plate estuary, the city is laid out on a grid system, with some spectacularly wide avenues. Different parts of the city have quite distinct flavours, from La Boca (where some of the oldest buildings are to be found, many brightly painted), to the Plaza de Mayo with its 'Pink Palace', the president's residence, cathedral, and town hall. There are excellent restaurants specialising in asados (grills), theatres, galleries, tango houses, museums, and a beautiful Opera House.
Spend a night at the Hotel Loi Suites in elegant Recoleta, next to the famous cemetery with ornate mausoleums including that of Eva Perón. In the evening there will be a welcome dinner and Roger will give an introductory talk. The hotel has a lovely airy restaurant.
16-18 November
Patagonia and the Lake District
The Los Alerces National Park, near the town of Esquel, is beautifully set among a string of rivers and lakes in the foothills of the Andes, with lovely walks. Esquel is the southern terminus of the Old Patagonian Express (a narrow-gauge steam train). To the east the Chubut river has carved spectacular canyons in the arid Patagonian steppe.
Fly south to Esquel and spend 3 nights at the comfortable Hosteria Cumbres Blancas. Excursions in this quiet and friendly town will include the Old Patagonian Express (La Trochita) a narrow-gauge steam engine; the Los Alerces national park with its forests of southern beech; and the old mill at Trevelin (founded in 1891 by Welsh settlers).
Drive north, following the path of the rail tracks across typical steppe before entering an area of quick-flowing streams and deep blue lakes. The backdrop of snow-capped mountains is reminiscent of the Swiss Alps but on a grander scale. Spend a night near Bariloche, overlooking lake Nahuel Huapi.
19-21 November

Mendoza and the wine valleys
Mendoza is a pleasant and leafy city founded in 1561, with several interesting museums. The surrounding area is best known for its vineyards which produce over 70% of Argentina's wines.
Fly north from Bariloche to Mendoza, and spend 2 nights in the Park Hyatt, which overlooks Mendoza's central square. There are several wineries within easy reach of the city.
22-24 November
El Leoncito National Park
El Leoncito National Park is a beautiful and little-visited area of high altitude steppe on the western slopes of the 4,000m Tierra del Tontal mountain. Due to the 300 days of clear skies every year there are two observatories, CASLEO and Félix Aguilar. CASLEO has 5 telescopes at two sites, the largest of which weighs 40 tons and has a 2.15m lens.
Drive 200km north-west, though the foothills of the Andes, in the small town of Barreal, probably split between two posadas (country inns) depending on final group size. Visit both the national park and the CASLEO observatory.
25-26 November

La Plata
La Plata, on the banks of the River Plate is the attractive capital of Buenos Aires province. Founded in 1882, it was designed as a square with two diagonal avenues, a large central square and smaller parks every six blocks. The principal buildings were designed by international competition winners, and include a neo-Gothic cathedral, a Renaissance-style opera house, a university with an observatory and the highly-respected natural history museum which houses 3 million fossils.
Drive to Mendoza airport and fly back to Buenos Aires. Drive to La Plata (about an hour). Stay 2 nights at a hotel in central La Plata, and visit both the natural history museum (with a wide collection of recently extinct megafauna unique to the Americas) and the observatory, where Roger has contacts.
Sunday 27 November - Departure day (Buenos Aires)
Transfer (1½ hours) to Buenos Aires Ezeiza airport for homeward or onward connections. A non-stop British Airways flight to the UK departs around 2pm, arriving at 7am on 28 November.
Notes:
Prices start at £6,250 per person sharing a double/twin room, including internal but not international flights. Do contact us for availability, flight quotes, and booking conditions.
The trip scholar is Professor Roger Davies, Philip Wetton Professor and Director of the Hintze Centre for Astrophysical Surveys at the University of Oxford. See our trip scholar pages for further details.
This tour is for alumni of either Oxford or Cambridge Universities or those with a close connection to either.
The outline presented here was accurate when produced in November 2020 but we may need to add or omit visits; alter the length of stay in each place; or change routings to make the best connections. We reserve the right to substitute the trip scholar if they are unable to travel for reasons outside our control.