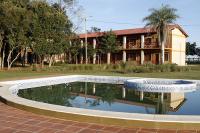 Estancia Tacuaty
Location
San Ignacio Guazu (The Southern Missions, Paraguay)
Description
A rustic estancia some 4 hours south of Asunción and 2 hours north of Encarnación, surrounded by rolling countryside. The complex comprises of the original, traditional farm buildings combined with a new modern annexe built with tourism in mind. There is a small pool in the shape of a fountain and a separate bar come restaurant.
Activities
Riding, walks around the farm and general estancia activities.
Accommodation
There are 18 rooms, 9 per floor of the modern accommodation block, each with a balcony overlooking the surrounding fields. Rooms are fairly spartan in design but all en-suite with air conditioning and a fan.
Our comments
A good option though more geared up for groups. There isn't a great deal to do once you are there and little English is spoken.