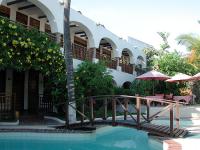 Silberstein Hotel
Location
Puerto Ayora (Santa Cruz (Indefatigable), Galapagos)
Description
The Silberstein is close to the centre of town and a 10 minute walk from the Charles Darwin Research Station. It has a lovely tropical garden, restaurant, pool and library. There is also a dive centre on-site.
Activities
Scuba diving, snorkelling, hiking and day trips to neighbouring islands can all be organised by the hotel.
Accommodation
22 rooms, all with air conditioning. No ocean views.