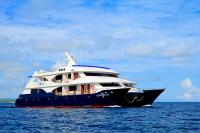 Ocean Spray
Location
ex San Cristóbal and Baltra (Galapagos yachts and cruises, Galapagos)
Description
Quick facts - Level: Luxury | Passengers: 16 | Duration: 3/4/5/7 nights | Length: 113 feet | Cruising speed: 15 knots | Operator: Haugan Cruises

A luxury catamaran with a restaurant, bar, al fresco dining area, hot tub and good outdoor deck space. She has a cruise manager who organises daily activities, as well as a naturalist guide.
Departures
Saturdays, Tuesdays and Thursdays
Capacity
16 passengers
Activities
An experienced naturalist guide leads daily island, panga and snorkelling excursions and presentations are given on board. Ocean Spray carries two kayaks that can be used at certain sites permitted by the National Park. The use of snorkelling gear and wetsuits is included.
Accommodation
The 8 air-conditioned cabins are spacious, with private bathrooms and balconies.
Ocean Spray operates a 14 night programme which is a combination of two 7 night cruises starting on a Saturday: Itinerary A and Itinerary B. 3, 4 and 5 night itineraries are also possible: Saturday-Tuesday (3 nights Itinerary B), Tuesday-Saturday (4 nights Itinerary B), Saturday-Thursday (5 nights Itinerary A).
Itinerary A - Isabela/Española
Day 1 (Saturday): Baltra, Sombrero Chino
Day 2: Isabela (Punta Vicente Roca), Fernandina (Punta Espinosa)
Day 3: Isabela (Tagus Cove, Urvina Bay)
Day 4: Isabela (Elizabeth Bay, Punta Moreno)
Day 5: Santa Cruz (Charles Darwin Research Station, Highlands)
Day 6: Plaza Sur, Santa Fé
Day 7: Española (Gardner Bay, Punta Suárez)
Day 8: San Cristóbal (Visitor Interpretation Centre, La Galapaguera)
Itinerary B - Floreana/Genovesa
Day 1 (Saturday): San Cristóbal (Isla Lobos, Kicker Rock)
Day 2: San Cristóbal (Punta Pitt, Cerro Brujo)
Day 3: Floreana (Post Office Bay, Punta Cormorant, Devil's Crown)
Day 4: Santa Cruz (Caleta Tortuga Negra), Bartolomé
Day 5: Genovesa (Darwin Bay, El Barranco)
Day 6: Santiago (Playa Espumilla, Buccaneer Cove, Punta Egas)
Day 7: Seymour Norte, Santa Cruz (Highlands)
Day 8: Isla Mosquera, Baltra
Double cabin
8 double cabins with balcony; 4 on the main deck (31 square metres) and 4 on the upper deck (23 square metres).
Single cabin
1 single cabin with balcony (18 square metres) on the upper deck.
Prices per person. Where entries are not shown for all cabin/room types we have chosen an entry level example, so please just ask us for other types. See below for more price notes.
From
To
Nights
Room type
Price
Ocean Spray 7 night cruise
1 Jan 2020
31 Dec 2020
7
Double cabin
$7,550
Peak season departures (Christmas and New Year, Easter and Spring break) have a US$500 per person supplement.
25% discount for children under 12 years of age (1 child per 2 adults; not applicable during peak times).
Single supplement is 50% (100% during peak times).