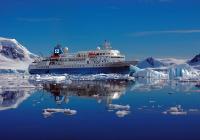 Seaventure
Location
ex Ushuaia (Antarctic cruises, Antarctica)
Description
Quick facts - Level: First class | Passengers: 164 (but limited to 139) | Duration: 9-19 nights | Length: 364 feet | Cruising speed: 15 knots | Operator: Polar Latitudes

A very comfortable expedition ship with the highest ice class rating awarded to passenger ships (1-A Super), which means she is able to explore coves, bays, and channels that are not possible on many other ships. There is a heated salt-water pool, fitness centre with sauna, a custom-built citizen science laboratory and a library with guest computers. There are panoramic views and the common areas are spacious and include multiple dining areas- even al fresco on the Lido Deck (for when weather permits).
Capacity
139 (up to 149 if there are rescheduled guests)
Activities
International expedition staff lead shore excursions and give daily lectures on board. Sea kayaking and camping are offered on selected voyages, both of which have an additional cost (basic previous kayaking experience is recommended). There are limited places for these optional activities and so they should be booked well in advance. Guests are invited to participate in the Citizen Science data-gathering activities that support major research projects. There are also photography coaches on board who hold presentations and briefings to help guest's better capture the unique environment of Antarctica.
Accommodation
Cabins are across five decks and vary little in size (from 17.5 to 25.4 square metres). They all have a private bathroom, sitting area and ocean view through either windows or portholes and are equipped with a flat screen TV, mini-bar and safe. The Owner's suites and Veranda staterooms additionally have a small balcony.
When to go
Mid November to mid March.
Most itineraries either follow or are close variants of our standard Antarctica itineraries (www.lastfrontiers.com/antarctica/itineraries).
Cruises start and end in Ushuaia (Argentina) and the first night is spent in a hotel in Ushuaia.
For exact details of specific cruise departures please just contact us.
Window Stateroom
There are 30 Window Staterooms on Deck 5 and 23 on Deck 4 (17.5 square metres), with a sitting area and a window.
Owner's Suite
The 2 Owner's Suites are the largest cabins and are on Deck 7 (30.8 square metres including balcony) and have a spacious seating area with sofa. The bathroom has a bath with built in shower.
Porthole Stateroom
There are 6 Porthole Staterooms on Deck 3 (17.5 square metres), with a sitting area and portholes.
Triple Stateroom
There are 5 Triple Staterooms on Deck 4 (17.5 square metres), which have an extra single bed, window and sitting area. 2 of these are Family Triples with one queen bed and one single.
Veranda Stateroom
There are 16 Veranda Staterooms (20.1 square metres including balcony) on Deck 6. Sliding doors open to a private balcony and there is also a seating area.
Prices per person. Where entries are not shown for all cabin/room types we have chosen an entry level example, so please just ask us for other types.
From
To
Nights
Room type
Price
Seaventure: Ultimate Antarctica (Falklands, South Georgia and Antarctica)
2 Nov 2023
23 Nov 2023
19
Window Stateroom
$26,915
Falklands, South Georgia & Antarctica
Owner's Suite
$46,195
Porthole Stateroom
$24,035
Triple Stateroom
$20,895
Veranda Stateroom
$34,995
Seaventure: Classic Antarctica (The Antarctic Peninsula)
20 Nov 2023
1 Dec 2023
9
Window Stateroom
$12,755
Celebrating Antarctica
Owner's Suite
$21,885
Porthole Stateroom
$11,385
Triple Stateroom
$9,895
Veranda Stateroom
$16,575
29 Nov 2023
11 Dec 2023
10
Window Stateroom
$14,165
Celebrating Antarctica
9 Dec 2023
21 Dec 2023
10
Window Stateroom
$15,865
Celebrating Antarctica
19 Dec 2023
31 Dec 2023
10
Window Stateroom
$15,865
Christmas in Antarctica
Seaventure: Ultimate Antarctica (Falklands, South Georgia and Antarctica)
29 Dec 2023
18 Jan 2024
18
Window Stateroom
$28,585
Falklands, South Georgia & Antarctica
Seaventure: Classic Antarctica (The Antarctic Peninsula)
16 Jan 2024
30 Jan 2024
12
Window Stateroom
$19,045
Crossing the Circle
28 Jan 2024
9 Feb 2024
10
Window Stateroom
$15,865
Celebrating Antarctica
7 Feb 2024
21 Feb 2024
12
Window Stateroom
$19,045
Crossing the Circle
19 Feb 2024
2 Mar 2024
10
Window Stateroom
$14,165
Celebrating Antarctica
29 Feb 2024
14 Mar 2024
12
Window Stateroom
$17,005
Crossing the Circle