Towards the Antarctica Circle - the far south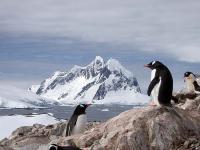 In 1578 Sir Francis Drake, aboard the Golden Hind, reached 57º south, and the 500 miles of open water south of Cape Horn has carried his name ever since. This notorious section of the Scotia Sea is roamed by albatrosses, blue-grey prions and storm petrels. You will cross the Atlantic Convergence, an unfixed biological barrier where cold polar waters dive beneath the warmer oceans to the north. The Antarctic Peninsula is the northernmost extension to the southern continent and as a result has the mildest climate. It is mountainous, with many glaciers flowing down to ice shelves. The narrow waterways are a particular highlight, including the Antarctic Sound (known as 'iceberg alley'), and the Lemaire and Neumayer channels.
Port Lockroy, a former British scientific station, now houses probably the most isolated museum in the world. At breath-taking Paradise Bay glaciers flow from the 10,000 foot Foster Plateau into calm waters. The dramatic cliffs are dense with nesting cape petrels, Antarctic blue-eyed shags, kelp gulls and Antarctic terns. Minke, humpback and killer whales are often seen at close range.
The South Shetland Islands are also a haven for wildlife, including chinstrap, Gentoo and Adélie penguins, fur seals, and southern elephant seals. Cruises usually sail through a narrow channel into the flooded caldera of Deception Island.