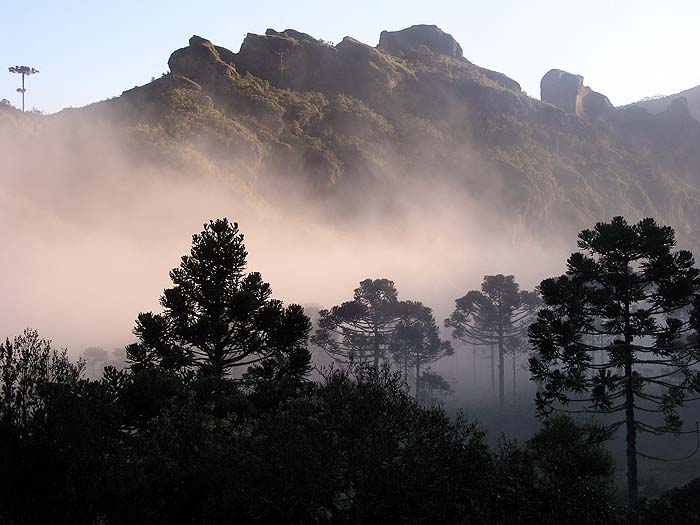 Southern Brazil
colonial history, mountains, monkey-puzzle trees and golden sand beaches
A spectacular 14 day journey visiting the colonial cities of Minas Gerais, exploring the mountains and Atlantic rainforest, ending with time to relax on the stunning beaches of southern Brazil.
To enquire about this itinerary, or one like it, please email us or click the Enquire button.
Itinerary summary
Minas Gerais
Days 1-3: Arrive into Belo Horizonte and driven south (about 2 hours) to the colonial city of Ouro Preto. Stay three nights in a pretty pousada, allowing time to wander the cobbled streets, visit the plazas, museums and churches (some dotted on hill-tops) with their Baroque art and architecture, and sample the typical food. The nearby town of Mariana, the State's first town and capital, has some beautiful old colonial mansions built of soapstone, and the Mina da Passagem is the oldest open gold mine in the world that can be visited. It was in use until 1985 and about 35 tons of gold were extracted while it was being mined.
Curitiba and Atlantic rainforest
Days 4-6: Driven to Belo Horizonte airport (with a stop at Inhotim, a comtemporary museum which is a combination of art and nature with forest, tropical gardens, lakes and amazing modern art features throughout) for a flight to Curitiba. After a night in the city board the classic Paranaguá train for the most spectacular train journey in Brazil, with great views of waterfalls and gorges as the train rumbles over viaducts and bridges. On arrival in Morretes explore the colonial town and stay in a friendly pousada with excellent bird-watching opportunities.
The highlands of the Serra Geral
Days 7-9: Driven back to Curitiba along the historical Graciosa Road (about 2 hours) and fly to Porto Alegre. On arrival travel inland (about 4 hours) into the mountains and canyons of the Serra Geral, with its misty cliffs topped with ancient monkey puzzle trees. Stay at a rustic lodge with fantastic views for three nights, allowing time to enjoy the excellent walking and riding opportunities the area offers.
Relax on the beaches of Florianopolis
Days 10-14: Driven to Florianopolis and on to Praia do Rosa (3-4 hours) for three nights in a tranquil, hillside retreat with amazing views of golden sand beaches extending over 3km. There are nature trails to explore, you can arrange a boat trip, try surfing, go fishing or enjoy a massage. From July to early October you may also be able to see southern right whales. On the final day driven to Florianopolis for onward flight connections.
Accommodation options
In the following section you will see our suggested options for possible accommodation.
The estimated flight cost included in this itinerary (assuming international flights from the UK plus any internal flights that are necessary) is £1,580 per person.
Standard - £4,870
A selection of properties offering good value without compromising on location.
Price and validity notes
We have tried to give you as accurate an idea of prices as possible, including meals where appropriate (but not when there are good local options so you don't pay for a meal that you might not want), accommodation, transfers, and any tours we have included.
All prices are per person based on two people sharing a room and are intended as a guide (local high or low seasons can cause some variation). All prices were correct when published but may vary with exchange rate fluctuations, fuel surcharges, or changes in the general economic situation.