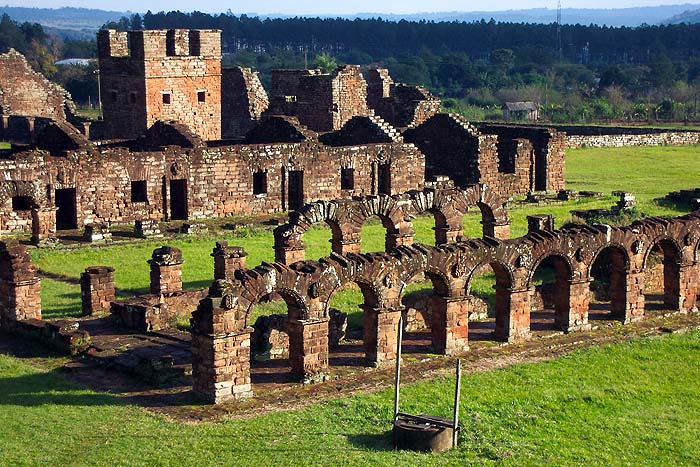 Classic Paraguay
remote indigineous communities, plentiful, rarely-seen wildlife and impressive, historic Jesuit ruins
A 9 day itinerary to one of the lesser-known corners of South America, for rich wildlife, friendly people and some spectacularly well preserved Jesuit missions.
To enquire about this itinerary, or one like it, please email us or click the Enquire button.
Itinerary summary
Asunción
Days 1-2: Start with two nights in the capital, Asunción, where the scent of jasmine lingers in the air and the Rio Paraguay's river frontage is busy and vibrant. The city is small and easily negotiated and a local guide will show you around.
Wildlife of the Chaco
Days 3-4: You will be driven west (5-6 hours) to the Chaco for two nights in these remote palm-studded plains, where several Mennonite communities have had to develop ingenious agricultural techniques in order to thrive in arid conditions. Large cats can be found in the dense thorn forest and birds can be seen in the marshes.
Historic Missions
Days 5-8: Driven back to Asunción for a night before being driven south along the rich red earth roads to the remains of the Jesuit mission settlements dating back to the 17th and 18th centuries. The most famous is Trinidad, on an open plateau with far-reaching views south towards the Paraná river. Spend two full days exploring the missions and surrounding area with a guide. Return to Asunción for a final night.
Go further
It makes a lot of sense to continue from southern Paraguay across the Paraná River and into northern Argentina, either at Encarnación/Posadas or Ciudad del Este/Iguassu.
Accommodation options
In the following section you will see our suggested options for possible accommodation.
The estimated flight cost included in this itinerary (assuming international flights from the UK plus any internal flights that are necessary) is £875 per person.
Price and validity notes
We have tried to give you as accurate an idea of prices as possible, including meals where appropriate (but not when there are good local options so you don't pay for a meal that you might not want), accommodation, transfers, and any tours we have included.
All prices are per person based on two people sharing a room and are intended as a guide (local high or low seasons can cause some variation). All prices were correct when published but may vary with exchange rate fluctuations, fuel surcharges, or changes in the general economic situation.