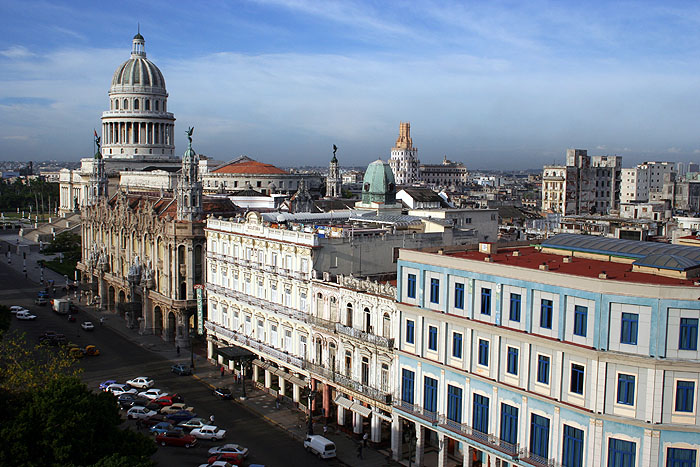 Classic Cuba
vibrant city life, classic American cars, unique landscapes and colonial highlights
This 11 day itinerary explores western Cuba, taking in the vibrant colonial cities of Havana and Trinidad, and a visit to the picturesque Viñales valley.
To enquire about this itinerary, or one like it, please email us or click the Enquire button.
Itinerary summary
Havana - Cuba's vibrant capital city
Days 1-3: Begin with three nights in this atmospheric city. Listen to live music drifting from street side bars, smell cigar smoke as habañeros stroll past their crumbling buildings and watch vintage American cars being driven along the malecón. There is so much to do in Havana: from the favourite haunts of Ernest Hemingway to architectural tours, samba classes, private visits to an artist's studio, learning about the local beliefs of santería or perhaps to watch a rehearsal or performance at the famous Cuban National School of Ballet. A visit to at least one paladar (private local restaurant) is a must.
Viñales - scenic countryside
Days 4-5 : Driven west for two nights in the Viñales valley, an area famous for its mound-like limestone hills, which rise up to 300 metres, and caves, containing ammonite fossils, which were lived in for centuries before the Spanish conquerors. The landscape is totally unique to this particular corner of Cuba and the whole area is devoted to agriculture, mainly tobacco plantations, farmed using traditional techniques. Visits to local farms and rural communities can be arranged and make a fascinating visit.
Colonial Trinidad
Days 6-9: Driven east towards Cienfuegos, with its unique French architecture and near the historic Bay of Pigs, for good snorkelling and a visit to the Revolution Museum. The following day you continue further east for three nights in Trinidad, Cuba's third-oldest settlement and a UNESCO World Heritage site since 1988. The old sugar mill plantations make an interesting visit, or you can take a trip into the Escambray mountains with its nature trails and fresh water pools. Trinidad is famed for its craftwork and is also the spiritual home of salsa, be sure to visit a Casa de la Trova to see how it's done. The beautiful white sands of Ancón beach are just 20 minutes from the town.
Days 10-11: Driven back to Havana and stay for your final night before onward connections.
Go Further
The beaches in the northen cayes of Cuba are easily accessible and would be ideal for a three night stay.
Accommodation options
In the following section you will see our suggested options for possible accommodation.
The estimated flight cost included in this itinerary (assuming international flights from the UK plus any internal flights that are necessary) is £985 per person.
Standard - £4,950
Staying in casas particulares in Cuba adds interest to any trip and two are included below. Casas are the private homes of Cubans found the length and breadth of the island and numbers are increasing as the government allows more private enterprise. They are all unique, offer good value in the right location, and of course have a friendly owner and host (who may not speak much English). They combine well with a traditional hotel stay.
Finca Kenia - [casa particular] just outside Trinidad, a wonderful home-from-home where Kenia and her family live. Their entire farm is full of character and typically Cuban.
Hotel Santa Isabel - a beautiful colonial building in the heart of old-Havana and within walking distance of Plaza de Armas.
Price and validity notes
We have tried to give you as accurate an idea of prices as possible, including meals where appropriate (but not when there are good local options so you don't pay for a meal that you might not want), accommodation, transfers, and any tours we have included.
All prices are per person based on two people sharing a room and are intended as a guide (local high or low seasons can cause some variation). All prices were correct when published but may vary with exchange rate fluctuations, fuel surcharges, or changes in the general economic situation.