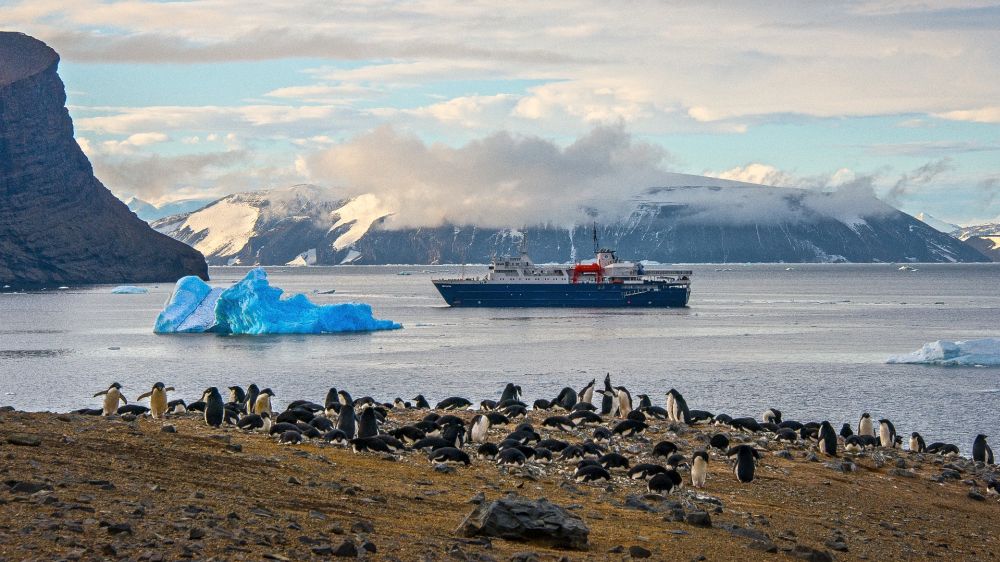 Antarctica's Weddell Sea
in search of emperor penguins
18 November - 1 December 2024: A wonderful opportunity to go beyond the Antarctic Peninsula and venture further south, to an emperor penguin rookery on Snow Hill Island. This tour is accompanied by wildlife expert and professional photographer James Lowen.
To enquire about this itinerary, or one like it, please email us or click the Enquire button.
Itinerary summary
Monday 18 November 2024 - Arrival day (Buenos Aires)
Buenos Aires
For UK participants, the recommended non-stop flight from London Heathrow with British Airways departs around 10pm on 17 November and arrives in Buenos Aires around 11am the next day. Other flights can be met on request.
Those arriving on this flight would have the afternoon to explore central Buenos Aires.
Spend a night at the Hotel Loi Suites in elegant Recoleta, next to the famous cemetery with ornate mausoleums including that of Eva Perón. In the evening there will be a welcome dinner.
Ushuaia, Tierra del Fuego
Tuesday 19 November: Fly south to Ushuaia, the world's southernmost city on the north shore of the Beagle Channel, and spend a night at the Albatros hotel, just opposite the port and 3 blocks from the End of the World Museum. James will give an introductory talk.
Antarctic cruise
Wednesday 20 November: board the Ortelius in the afternoon and set sail along the Beagle Channel.
Days 2-3 - As the ship sails south across the Drake Passage passengers and guides keep an eye out for changing wildlife, perhaps a fin whale, one of several albatross species, fulmars or petrels. Cross the Antarctic Convergence, where cold water meets warmer seas and the marine life changes.
Days 4-7 - Huge icebergs are sighted as you skirt the tip of the Antarctic peninsula and head south into the Weddell Sea. Make landings using the on-board zodiacs and also, as a special feature of this voyage, by helicopter. Visit sites that may include Duse Bay, Seymour Island, Devil Island, Brown Bluff, Gourdin Island and the Argentine research base at Esperanza.
Throughout this time the search is on for emperor penguins as they travel between their breeding grounds (the rookery on Snow Hill island usually has 4,000 breeding pairs) and the open ocean. Oceanwide Expeditions has a good track record of getting clients to Snow Hill but nature is always the final arbiter. If ice conditions permit, two days are spent at the rookery with helicopters ferrying passengers (4-6 at a time) to a landing spot carefully chosen so as not to disturb the penguins. From here it is a 45 minute walk to the colony.
Day 8 - A final landing at Deception Island, either Pendulum Cove or Whalers Bay.
Days 9-10 - Re-cross the Drake Passage and return to Ushuaia.
Saturday 30 November: Disembark, and fly to Buenos Aires for a final night.
Buenos Aires
Sunday 1 December - Departure day
Transfer to Buenos Aires Ezeiza airport for homeward or onward connections. A non-stop British Airways flight to the UK departs around 2pm, arriving the next morning.
Notes:
Prices start at £13,800 per person sharing a double/twin room and based on a twin porthole cabin on the Ortelius, including internal but not international flights. Do contact us for a pdf itinerary, availability, single supplements, flight quotes, and booking conditions.
The trip scholar is James Lowen. See our trip scholar pages for further details.
This tour is for alumni of either Oxford or Cambridge Universities or those with a close connection to either.
The outline presented here was accurate when published in May 2023 but we may need to add or omit visits; alter the length of stay in each place; or change routings to make the best connections. We reserve the right to substitute the trip scholar if they are unable to travel for reasons outside our control.