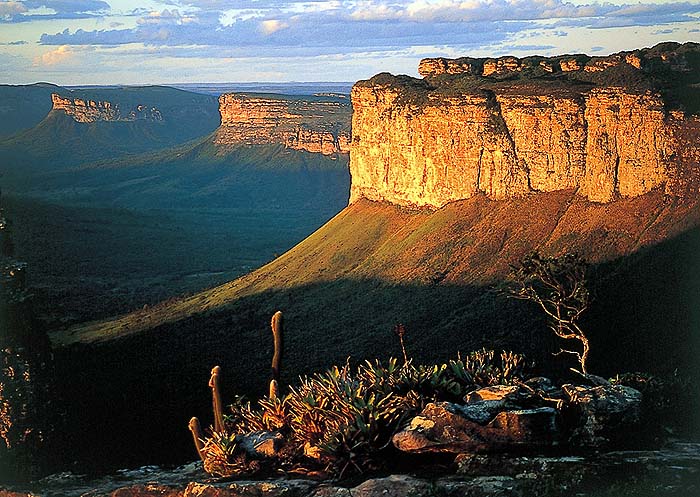 Active pursuits in Brazil
out and about in mountain and canyon
If you want to get active in Brazil there are plenty of options, too many for us to fit into any example itinerary. Here are a few ideas that could be bolted on, or bolted together to make a really interesting trip. They start with 3 'chapadas' (mountain ranges formed by horizontal rock strata).
To enquire about this itinerary, or one like it, please email us or click the Enquire button.
Chapada Diamantina: waterfalls and canyons
This national park is 400km inland from Salvador, in the Brazilian north-east. Most visitors stay in the pretty colonial town of Lençois (once a mining village, both gold and diamonds were found here) and take day hikes into the surrounding countryside, with its waterfalls, rock formations, caverns, streams and majestic table-top plateaux. The summit of one, Pai Ignacio, can be reached in an easy 20 minute walk.
Allow at least 2-3 days, more if you want to take the less-trodden trails. Combines with Salvador.
Chapada dos Guimarães: an inspiration for the 'Lost World'
60km north-east of Cuiabá. A profusion of red sandstone formations rising up to 700m characterise this area, along with tumbling waterfalls and wetlands - a delight for birdwatchers. This is one of the oldest plateaus on earth, with immensely rich forests, curiously-eroded rocks and many lovely grottos to explore. Stay in a comfortable guest house and walk the nearby trails or visit waterfalls and viewpoints.
1-2 nights is usually about right, often combined with the northern Pantanal.
Chapada dos Veadeiros: unique outback scenery
230km north of Brasilia, this national park is a fine example of the cerrado, one the world's oldest and most diverse tropical ecosystems. A combination of savanna dotted with moriche palms and gallery forest, it is very dry from June to October and more humid the rest of the year. Its unique and pristine landscape is ideal for keen walkers (there are two main signed trails), with dramatic hills and natural pools and waterfalls.
3 nights would allow for two full days of activities, and a night in Brasilia before or afterwards makes sense.
The Serra Geral: plateaus and monkey puzzles
Real off-the-beaten-track Brazil, this little-visited area of waterfalls, misty moorlands, cliffs and canyons is only a few hundred kilometres from the sandy beaches of southern Brazil. Even the climate is totally different, clear and cool in winter (frosts are not uncommon) and warm and mistier in summer (January is the warmest month). Hike deep canyons or ride across the green fields and monkey puzzle forests of the plateau.
Stay in simple mountain inns and allow 3-4 days. Consider hiring a car (access is either from Porto Alegre or Florianópolis, in which case the ascent is through some of the largest remaining portions of Atlantic Rainforest).