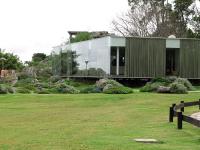 Fasano Las Piedras
Location
La Barra (Punta del Este, Uruguay)
Description
Once a working estancia, the Fasano combines contemporary architecture and elegance to provide a truly memorable stay. The hotel is set in four hectares of land, with the restaurant offering the best views of the surrounding countryside. There is an outdoor sunset bar and quirky swimming pool and sauna.
Activities
Riding, polo, kayaking, golf, tennis and trips to the beach
Accommodation
Each villa has a good-sized separate sitting area and very comfortable soft furnishings and a patio facing the river. Villas are positioned in such a way that your privacy is maintained.