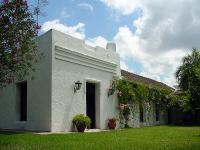 Estancia Guardia del Monte
Location
Rocha (Josť Ignacio and the East, Uruguay)
Description
A small working estancia on the shores of Laguna de Castillos, covered in beautiful bougainvillea. There is a very large ombú tree in the garden and a forest of ancient ombú trees nearby (which are protected). There is an open kitchen and lovely family dining room where guests can enjoy a traditional asado.
Activities
Riding, walking in the forest and bird-watching in the wetlands. The ombú forest is one of the only ones in the world; some of the trees are over 500 years old and have a diameter of 2 metres. The lagoon is nearby for fishing and exploring.
Accommodation
Three simple rooms set around a courtyard, all with private facilities.
Our comments
Family-run estancia with an interesting history, tons of character and a warm welcome.