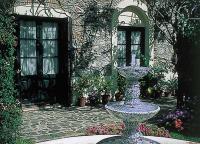 Hotel Plaza Mayor
Location
Colonia (Colonia and surrounds, Uruguay)
Description
A pretty colonial hotel set around a fragrant courtyard and small fountain, in the centre of the historic city. All the rooms have their own charm and are individually furnished. The breakfast room overlooks the bay.
Accommodation
17 rooms set around courtyard, all with private facilities.
Our comments
This used to be one of our favourites in Colonia but sadly service has gone downhill and it lacks a little tlc.
Client comments and reviews
We loved our hotel in Colonia, it was a great base for exploring the town and we found a nice restaurant nearby - AD, Nov 2007