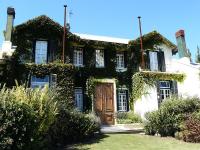 Casa de los Limoneros
Location
Outskirts of Colonia (Colonia and surrounds, Uruguay)
Description
A beautifully renovated house with a mature garden and orchard of lemon trees with an outdoor swimming pool. It looks rather like an old English railway station but surrounded by a verandah. The owner Mario lives there all the time.
Accommodation
Only a few rooms which are rustic and cosy but with a private bathroom.
Our comments
It is a 15 minute taxi ride into the centre of town and very dark surrounding the casa in the evening!