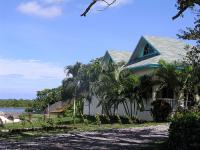 Turquoise Bay Beach Resort
Location
Turquoise Bay, Roatan (The Bay Islands, Honduras)
Description
A quality small hotel with excellent facilities set up on hillside overlooking a private beach, protected by a reef, situated towards the east end of Roatan's north shore on the way to Punta Gorda. The main restaurant and bar overlook the pool and beach and there is the option of eating inside or outside.
Activities
Swimming, snorkelling, diving and all island activities can be organised.
Accommodation
26 rooms in 5 houses; some with ocean views. All rooms have a small private balcony, tasteful furnishings, private bathrooms, air-conditioning, fan and TV.