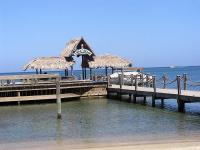 Luna Beach
Location
West End, Roatan (The Bay Islands, Honduras)
Description
A 10 minute walk south of the village centre. Small pool and restaurant.
Activities
Good dive shop, snorkelling, relaxing.
Accommodation
There are a few rooms facing the beach, and larger houses higher up the hill. Unfortunately during the hotter months the houses can get hot due to poor design and lack of insulation, even though they have air conditioning units.
Our comments
Friendly staff but Luna Beach is best known for its Saturday night party which goes on into the small hours, so best avoided.