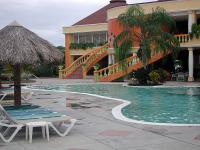 Palma Real
Location
45 minutes along the coast from La Ceiba (La Ceiba and Pico Bonito, Honduras)
Description
A friendly resort hotel, ideal for families. The beach is long, sandy and safe, and there are many facilities including a cabaret show, disco and games areas for children.
Accommodation
Rooms are large and comfortable. The restaurant is buffet-style and there are two pools set in gardens. A little train runs along the edge of the sea to transport guests to the show each evening.
Our comments
A good base from which to visit the beautiful islands of Cayos Cochinos, with pristine white sand beaches and excellent snorkelling.