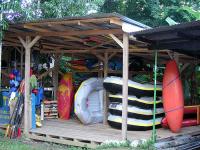 Omega Lodge
Location
Cangrejal Valley (La Ceiba and Pico Bonito, Honduras)
Description
A small rustic logde in the Cangrejal Valley, approximately 30 minutes from La Ceiba, with tropical gardens and a warm, friendly atmosphere. The restaurant is simple but stylish with character and the food is good.
Activities
There are lots of activities in the area which include, riding, rafting, hiking and excursions by 4x4.
Accommodation
The best rooms, Beauty View and Bamboo View, are set amongst orange trees near the river. They are spacious with stylish wooden furniture, pleasant decor, a colourful bathroom and many nice finishing touches. Rooms are screened and light and airy but have no air-condioning or ceiling fan.