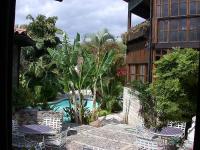 Hotel Marina Copán
Location
Copán Ruinas (Copán and the West, Honduras)
Description
Colonial hotel on a corner of the main cobbled square with a nice pool and restaurant. At the weekends, a local band often plays in the bar area.
Accommodation
Rooms have high ceilings and air-conditioning. Additional rooms at the back of the hotel are set around a water feature and terrace.
Our comments
Ideally positioned in the heart of the village, with friendly service and comfortable accommodation.