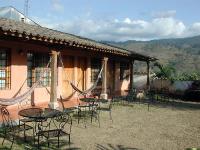 La Casa de Café
Location
Copán Ruinas (Copán and the West, Honduras)
Description
A friendly bed and breakfast. There is a library and a terrace with hammocks to relax in. There are lovely views over the surrounding fields from the grassy area used for breakfast.
Accommodation
About 20 nice rooms (ceiling fan, hot water in shower only, no air-conditioning).
Our comments
Excellent option for those on a budget or wanting something more personal.