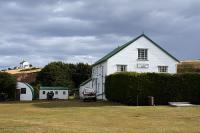 Port Howard Lodge
Location
Port Howard (West Falkland, Falkland Islands)
Description
Port Howard is the oldest and largest remaining sheep farm on West Falkland and the Chartres river is one and a half hours drive away.
Activities
Fishing is regarded as excellent on the Chartres river, with many fishermen returning year on year.

There is also the chance to see the working farm in full flow, particularly if you are visiting during the summer season when you may be able to view the process of gathering sheep, shearing, wool classing and baling.

In the grounds of the lodge there is a small museum to the 1982 conflict.
Accommodation
Sue (who was brought up in Port Howard) runs the lodge with her English husband Wayne. The building used to be the farm manager's house and now has 7 rooms available to guests as well as a lounge, bar and dining room.
Our comments
Sue prepares excellent food and it is a great place to meet and share experiences with other guests. In the harbour Commerson's dolphins can often be seen.
When to go
The trout season runs from 1st September – 30th April (best runs usually September/October or March/April).