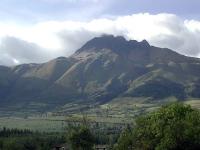 Mindo is 2 hours north-west of Quito. Here the 35,000 acre cloud forest, which ranges in elevation from 1,400m to 4,780m, is excellent for birds as well as butterflies and orchids. Although close enough to the city for a day trip, there are many comfortable lodges and walking trails to make a longer stay worthwhile.
About 100km from Quito, in lovely countryside near San Pablo lake, is the market town of Otavalo. On the way one passes the snow-covered Cayambe volcano, the highest point on the Equator. The famous Otavalo daily market (biggest on Saturdays) is a major attraction with a vast array of produce and handicrafts on show.
Near Otavalo are several small artisan towns like Cotacachi, where leather goods are made and sold. Most visitors stay in one of the historic haciendas in the area.
Our preferred accommodation

means that the hotel is one of our Dream Destinations.