Mission Galapagos joins Liz Bonnin and a team of international scientists as they explore the islands and ocean of one of the world's most precious environments. The team are conducting important research in areas where tourists do not have access. Conservation is paramount in the Galapagos Islands and tourists landing sites are very well managed. So whilst you will not be x-raying Marine Iguanas or diving to 1000 metres in a submersible you will experience awesome wildlife on land or snorkelling in the sea. Many of the Last Frontiers team have visited the Galapagos Islands so we were surprised to learn new things from this programme - who knew the tortoises shells had evolved depending on the vegetation of their environment?
This three part series airs on BBC One at 9pm on Thursdays or catch up in the iPlayer
A voyage of discovery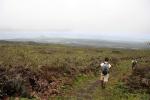 Sierra Negra volcano
Liz Bonnin's journey takes her and the team west to the youngest and most volcanically active islands in the archipelago, Isabela and Fernandina. Here as part of the filming Liz joins a group of biologists hunting for the rarest of species: the elusive and bizarre pink iguana, which teeters on the edge of extinction on top of a volcano. Liz boards a Triton submersible to descend a kilometre, the deepest anyone has ever dived on the Galapagos Islands, into the ocean abyss in search of a new species hiding in the darkness. On your voyage you will stay closer to the surface to snorkel with penguins, sea lions, rays, turtles and even a whale shark or hammerhead sharks!
What is guaranteed on a Galapagos voyage of discovery is that you will get a taste for Liz's journey and join her unlocking the mysteries of these extraordinary islands and its unique wildlife. You can also drop into the Charles Darwin Research Centre on Santa Cruz and welcome Lonesome George home!
Lonesome George returns home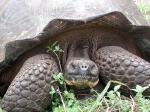 Giant tortoise
As well as a chance to practically touch noses with marine iguanas and swim with penguins and hammer head sharks there is also the chance to be one of the first to visit the embalmed body of the much loved, and last known member of his species, Galapagos giant tortoise known as Lonesome George. As of 23 February 2017, George has returned home to Galapagos and is now on show at the Charles Darwin Research Centre.
How to get there
Cachalote
The Last Frontiers Mission Galapagos-inspired 10 day trip includes a 7 night cruise on board the Cachalote (including all meals and activities), a wooden 95 foot, twin-masted sailing yacht, plus 2 nights in Quito pre cruise (B&B), as well as international flights and is priced from £4,865 per person. The Galapagos park fee of USD100 is payable on arrival.
Accommodating up to 16 passengers, Cachalote offers a more intimate cruising experience with 7 air conditioned cabins (with upper and lower berths), locally-inspired meals, salon, bar and sun deck. An experienced naturalist guide leads daily island, panga and snorkelling excursions - perfect for experiencing the wildlife and topography of the islands first hand.
For more information on the many Galapagos boats and itineraries we offer call us on 01296 653 000 to speak to one our experts or browse the Galapagos pages of our website: www.lastfrontiers.com/galapagos
"We had an amazing time in Galapagos and Ecuador and thank you for all your help and organisation. It was all so different and I felt as if I had been away for months as we did so many different things."- CJ

"The arrangements for our trip to Ecuador and Galapagos worked very well. The Galapagos cruise was wonderful, we met some amazing people and your organisation could not be faulted, thank you for everything." - JS