Masphi Lodge in the cloud forest of Ecuador featured on BBC Two's Amazing Hotels: Life Beyond the Lobby. The lodge is one of just 6 hotels selected worldwide and proved an interesting behind-the-scenes insight into this unique location.
New staff at Masphi
Mashpi Restaurant
Giles Coren and Monica Galetti travelled north from Quito to Ecuador's first 'design' jungle lodge and were soon working alongside the staff to experience life beyond the lobby. Giles was put to work with the housekeeping team to help keep the lodge spotless - a never-ending task in the damp humidity of the cloud forest and Monica prepared the local delicacy - guinea pig - ready for his lunch.
Explore the cloud forest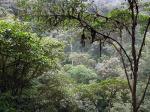 Canopy view from Sky Bike
Masphi sits in the cloud forest and there are an abundance of activities available. The 2km 'dragonfly' canopy gondala is not for the faint hearted - as Giles Coren proved with his fear of heights. The programme showed how the evacuation plan is tested should anything go wrong -abseiling from the canopy to the ground looks like great fun but not available for guests!
Conservation projects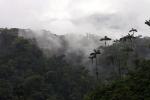 One of the most interesting aspects of the programme was the insight into the conservation at Masphi reserve, an area once owned by a mining company. The Mashpi reserve covers a vast area and has a resident biologist who keeps track of the different species in the reserve - the camera traps have caught glimpses of puma and a new species of frog has been discovered. The local community are very much involved in the project with many of the staff from the local village and locals being educated in the benefits of preserving their pristine environment.
Masphi Lodge prices reflect the quality and unique setting, rooms start from £585 per person per night and include activities and meals. A few nights here will make you appreciate how diverse and delicate the world can be. For more information see www.lastfrontiers.com/hotels/ecuador/mindo-otavalo-and-surrounds/mashpi
"Mashpi Lodge was every bit as marvellous as I expected it to be. Everything about the place was perfect, including the staff who couldn't do enough for you." SP, January 2013
"Our stay at Mashpi was wonderful and we were very well looked after by the manager and staff. We were pleased to have three nights to be able to fully appreciate the Cloud Forest and we did some short walks (bit muddy at times!)". ML, Oct 2012