Uruguay by region: where to go
The South
Montevideo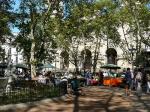 Montevideo ('hillock with a view') was founded in 1726 on a promontory on the River Plate. The city has a variety of architectural designs ranging from elegant French and Italian colonial buildings to Art Deco. The main squares are the Plaza Independencia, the centre-piece of which is an imposing black marble mausoleum of Artigas. At the eastern end of the square is the Palacio Salvo apartment block, rather reminiscent of a miniature Manhattan skyscraper. The Plaza de la Constitución (also known as Plaza Matriz), peaceful and leafy, houses the historic cathedral. The fish market is well worth a visit.

Between Punta and Montevideo is Piriápolis, founded in the 1890's as a bathing resort, and popular with porteños (residents of Buenos Aires) in particular. It is a pretty, hilly area with pine and eucalyptus woods.
Colonia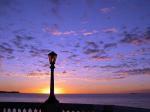 Colonia del Sacramento, 2 hours west of Montevideo, was founded by Portuguese settlers from Brazil in 1680, as a rival to the Spanish Buenos Aires on the other side of the River Plate. It has some of the only, and best preserved, colonial architecture and buildings in this part of South America, in the Barrio Histórico. There are various interesting museums and churches. There are good beaches nearby (the best is Playa Ferrando, 2km east), the water is fresh and brown!
North of Montevideo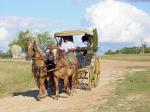 Rolling hills, forests and pastureland, with livestock, a variety of crops and vineyards. There are several estancias offering a range of activities (including riding), which can make a pleasant alternative to staying in a more conventional hotel.
The East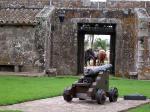 The eastern coast is an area of wild beaches, ancient fortresses and temperate palm forests. At the northernmost point, Chuy is a curious town straddling the border with Brazil and where the locals speak a strange language, a mix of Spanish and Portuguese.
Punta del Este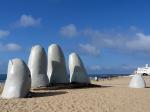 140km east of Montevideo lies the vibrant beach resort of Punta del Este. In its leafy suburbs are hotels, golf courses, casinos and holiday homes (some available to rent).

North of Punta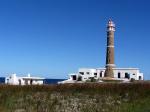 North of Punta del Este are small fishing villages and pristine beaches. Further north Rocha is a beautiful province, with emerald shores and a network of lagoons.