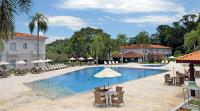 Belmond Hotel Das Cataratas
Location
Iguassu Falls (Iguassu Falls, Brazil)
Description
A 5-star hotel, with a traditional feel, owned by Belmond (formerly Orient-Express). The hotel is set in a lovely, old colonial style property inside the National Park and at the edge of the Iguassu falls. There is a large swimming pool, extensive gardens, 2 restaurants, bar, tennis court and spa.
Activities
Activities include a boat trip under the falls, helicopter trip over the falls, bird park or jungle walks.
Accommodation
Superior and Deluxe rooms are the same size, with traditional decor, but some Deluxe rooms have views of the falls.
Our comments
The hotel's position is unbeatable and hotel guests have exclusive access to the walkways when the National Park is officially closed!
Client comments and reviews
We absolutely loved the hotel, especially the pool! It was probably the highlight of our trip and the falls were simply amazing. - MT, January 2015
Probably the best hotel we stayed in but the most disappointing room. Excellent pool. Very good food generally, breakfast and especially a superb meal in the Itaipu Restaurant. We should have stayed an extra day to enjoy the hotel. - RL, November 2013
Iguacu was an amazing experience and Hotel das Cataratas was perfectly positioned and very comfortable. - PH, Feb 2013
So worth spending the extra cash on Das Cataratas, fantastic hotel in just an amazing location. Helicopter flights, boat ride, brazilian and argentinian sides of the falls, all just brilliant. It made Vic Falls look like a trickle! - KT, September 2012
Overall we thought the hotel was first rate. We had the buffet dinner a couple of times and also ate once in the Itaipu restaurant – both excellent. We thought that our deluxe room in the hotel was surprisingly small and rather unattractive, so we decided to see if we could upgrade and they were very obliging. Hotel staff were very friendly and helpful and the grounds and location are beautiful. - AF, November 2010
Iguassu was brilliant – while Hotel Das Cataratas is expensive it is worth it, being inside the park and avoiding the crowds on the Brazilian side. We spent more time at the aviary/bird sanctuary than we had expected and although the helicopter ride was short it was good value given the scenery. - DT & SH, September 2010
The refurbished hotel is a dream, we could not fault it. The food (particularly the buffet) was delicious and the hotel staff very helpful. What a superb location, being able to wander down to the water after the visitors had left for the day. So much less commercialised than the Argentine side of the Falls. - SB, March 2010
The Hotel das Cataratas was excellent, as it should be! It was really good to be based in the park itself. In particular, we could go out to see the falls early in the morning or late in the evening when the park was closed. The falls of course are fantastic, it was definitely good to see them from both sides and we also took the Macuco Safari trip and so saw the falls from yet another angle - underneath. - A OH, March 2010
Iguazu Falls first thing in the morning, all on our own before the park opened, was amazing. - JM, February 2009
Outstanding location and grounds, excellent room, very good staff, good breakfast, evening meals overpriced (monopoly!). - HH, March 2008
Staying in this hotel was definitely the right decision, thank you for that advice. Very charming and comfortable and of course, a superb location, both for relaxing and walking. - AM, February 2008