Sofitel Victoria Regia, Bogotá
Location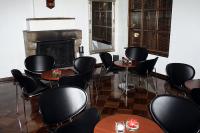 Zona T (Bogotá, Colombia)
Description
An elegant hotel in the lively Zona T, a short walk to a number of bars and restaurants. The hotel is modern and comfortable with impeccable service and décor. A smart and intimate restaurant is on the ground floor for guests prefering not to venture out.

Accommodation
There are 102 rooms divided between standard, executive and suites.

Our comments
A modern tasteful hotel in an excellent location.
Friendly link: www.lastfrontiers.com/hotels/sofitelvictoriaregia (use if you want to bookmark this page)