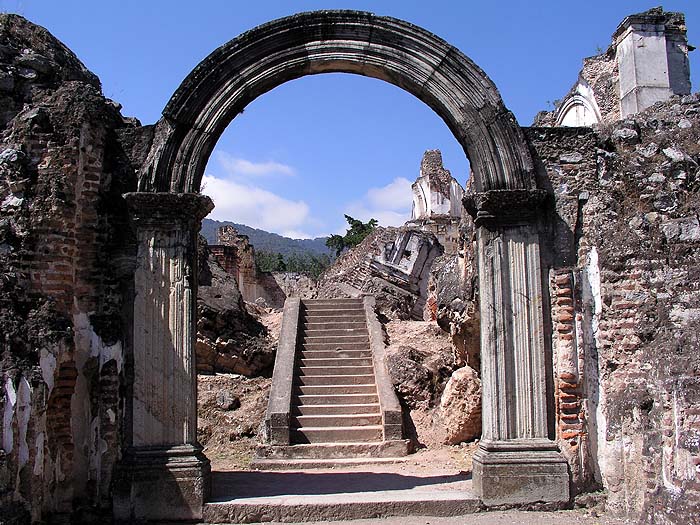 Guatemala to Mexico
an off-the-beaten-track, adventurous journey through the Maya heartland ending on the Riviera Maya
A 20 day tour following an adventurous path from the colonial cobbles of Antigua, Guatemala to the tip of the Yucatan peninsula and its Caribbean shores in Mexico. This itinerary really shows the extent and importance of the Maya culture visiting little known archaeological sites in the jungle, traditional markets and viewing stunning volcanic scenery along the route.
To enquire about this itinerary, or one like it, please email us or click the Enquire button.
Itinerary summary
Antigua, Guatemala
Days 1-2: Met and driven from Guatemala City to Antigua (40 minutes) for two nights. Free time to explore this former capital with its ornate churches and ruins, interesting museums, or the more active might like to hike up nearby Pacaya volcano.
Lake Atitlán and the southern Highlands
Days 3-5: Driven (2 hours) from Antigua to Lake Atitlán with a stop to wander around Sololá market en-route. Villagers dress in colourful, traditional outfits and there are plenty of interesting items for sale. Spend two nights at your hotel on the lake shore and take a boat trip to Santiago de Atitlán. From Atitlán it is under an hour's drive to the famous market town of Chichicastenango, and a night's stay allows you to see this large, diverse, local market being set up early the following morning.
Northern Guatemala - The Verapaces and the jungle region of Petén
Days 6-9: After a bit of 'retail therapy' you will be driven (7-8 hours) across the mountains to Cobán for two nights. A guided trip to the Grutas de Lanquín is included and also a visit to Semuc-Champey with its extraordinary limestone formations. Continue to Flores and spend two nights by Lake Peten Itza, your base from which to visit the large, impressive archaeological site of Tikal, still shrouded in the jungle.
Chiapas and the enigmatic ruins of Palenque, Mexico
Days 10-11: Driven to Bethel to clear immigration before taking the boat launch to Frontera Corozal and into Mexico. One night in simple lodging before continuing to Palenque, with a stop to visit the archaeological site of little visited Bonampak en-route.
The Yucatán Peninsula - with a hire car
Days 12-16: After an early morning visit to the site of Palenque you will be driven to the pretty fortress town of Campeche on the Gulf of Mexico for two nights. You will collect your hire car here and drive (3 hours) to Mérida to spend two nights and visit some interesting sites and various places of interest, such as the traditional town of Izamal and the Celestun Biosphere reserve, and the lively colonial town itself. A 2 hour drive from Merida brings you to Chichén-Itzá, and the chance to spend a night close to the ruins, with the advantage of being right next to the site so early risers can beat the crowds!
The Riviera Maya
Days 17-20: Drive to Mexico's beautiful Caribbean coast (3 hours) where you spend your final three nights in Tulum. Time to relax, or continue to explore the area with your hire car. There are the Maya sites of Tulum and Cobá nearby and also the Sian Ka'an biosphere reserve. It is also possible to organise diving and snorkelling trips. On your final day drop off your hire car at Cancun airport before taking onward connections.
Accommodation options
In the following section you will see our suggested options for possible accommodation.
The estimated flight cost included in this itinerary (assuming international flights from the UK plus any internal flights that are necessary) is £770 per person.
Standard - £4,740
Luxury - £5,800, staying in more superior accommodation where possible
Price and validity notes
We have tried to give you as accurate an idea of prices as possible, including meals where appropriate (but not when there are good local options so you don't pay for a meal that you might not want), accommodation, transfers, and any tours we have included.
All prices are per person based on two people sharing a room and are intended as a guide (local high or low seasons can cause some variation). All prices were correct when published but may vary with exchange rate fluctuations, fuel surcharges, or changes in the general economic situation.