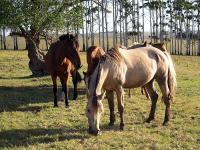 Estancia El Charabón
Location
Rocha (José Ignacio and the East, Uruguay)
Description
A lovely family run property in a rural area about 80km east of Punta del Este, near the Atlantic coast, and surrounded by the sierras (hills) of Rocha, ravines, native grasslands and rolling meadows. The 950 hectare working farm attracts a variety of wildlife, for its natural woodland. There is a lovely outside terrace where tea is served, a restaurant and BBQ area, and outdoor swimming pool.
Activities
Riding around the estancia or full day rides to the beach, swimming, walking and bird watching. The area has many important ecosystems such as wetlands, with a great variety of birds and native scrublands. Excursions to Fortaleza de Santa Teresa, Fortín de San Miguel and Isla de los Ombúes can be organised locally. You can also visit the close seaside resorts of La Paloma, La Pedrera or Cabo Polonio, a fishing village hamlet surrounded by shifting sand dunes. It can only be reached by horse, foot or 4x4 and you can see seals and sea lions that populate the small islands, making up one of the largest populations of seals in the world.
Accommodation
There are 9 rooms (5 being superior), all tradionally furnished with a private bathroom, air-conditioning and individual decór. The owner is an artist and has at least one of her paintings in every room!
Our comments
A lovely family estancia with a very warm welcome, giving an insight into remote estancia life in Uruguay. The grounds are beautifully kept with roaming peacocks!