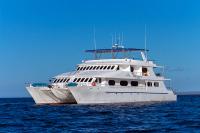 Tip Top II
Location
ex Baltra (Galapagos yachts and cruises, Galapagos)
Description
Quick facts - Level: First class | Passengers: 16 | Duration: 7 nights | Length: 104 feet | Cruising speed: 12 knots | Operator: Tip Top Travel

A comfortable catamaran with a spacious sun deck, dining room, lounge and bar.
Departures
Mondays and Fridays
Capacity
16 passengers
Activities
An experienced naturalist guide leads daily island, panga and snorkelling excursions and presentations are given on board. Tip Top II carries kayaks that can be used at certain sites permitted by the National Park. The use of snorkelling gear is included and wetsuits are available to rent.
Accommodation
There are 10 air-conditioned cabins, all with private bathrooms. The upper deck cabins have balconies.
Tip Top II operates two 7 night itineraries, which can be combined to create 14 nights/15 days:
Option 1
Day 1 (Friday): Baltra (Bachas Beach)
Day 2: Santiago (Sullivan Bay), Bartolomé
Day 3: Genovesa (Prince Philip's Steps, Darwin Bay)
Day 4: Santiago (Puerto Egas, Buccaneer Cove)
Day 5: Isabela (Punta Vicente Roca), Fernandina (Punta Espinosa)
Day 6: Isabela (Urvina Bay, Elizabeth Bay)
Day 7: Isabela (Sierra Negra volcano, Wetlands, Giant Tortoise Breeding Centre)
Day 8: Santa Cruz, Baltra
Option 2
Day 1 (Friday): Baltra, Santa Cruz (Charles Darwin Research Station)
Day 2: Santa Fé, Plaza Sur
Day 3: Santiago, Sombrero Chino, Rábida
Day 4: Santa Cruz (Caleta Tortuga Negra, Cerro Dragón)
Day 5: Floreana (Post Office Bay, Devil's Crown, Punta Cormorant)
Day 6: Española (Punta Suárez, Gardner Bay, Osborn Islet, Garden Islet)
Day 7: San Cristóbal (Puerto Baquerizo Moreno, Jacinto Gordillo Breeding Centre, Visitor Interpretation Centre, Kicker Rock, Cerro Brujo)
Day 8: Seymour Norte, Baltra
For those short on time, it is also possible to do a 4 night/5 day cruise around the South-East islands. This cruise departs Baltra on a Monday and follows the same itinerary as days 4 to 8 on Option 2.
Main Deck Twin
Cabins 3, 4, 5 and 6, on the main deck, all have twin beds.
Single
Cabins 1 and 2, on the main deck, both have single beds.
Upper Deck Double/Twin
Cabins 7 and 8, on the Upper Deck, have twin beds.
Cabins 9 and 10, on the Upper Deck, have a double bed. All have a balcony
Prices per person. Where entries are not shown for all cabin/room types we have chosen an entry level example, so please just ask us for other types. See below for more price notes.
From
To
Nights
Room type
Price
Tip Top II 7 night cruise
1 Jan 2021
31 Dec 2022
7
Main Deck Twin
$5,640
Single
$8,130
Upper Deck Double/Twin
$6,275
Tip Top II 7 night cruise
1 Jan 2023
31 Dec 2023
7
Main Deck Twin
$5,922
Single
$8,537
Upper Deck Double/Twin
$6,589
These prices include return flights from mainland Ecuador.
There is a surcharge for booking a twin or double cabin as a single.
Christmas, New Year and Easter departures will incur a supplement.