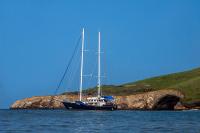 Beagle
Location
ex Baltra (Galapagos yachts and cruises, Galapagos)
Description
The Beagle does not currently have a license to operating cruises in the Galapagos.
Quick facts - Level: First class | Passengers: 14 | Duration: 7 nights | Length: 105 feet | Cruising speed: 9 knots | Operator: Galapagos Experience

A lovely steel-hulled schooner with teak decks, lots of character, a spacious interior lounge and good outside deck space.
Departures
Tuesdays
Capacity
14 passengers
Activities
An experienced naturalist guide leads daily island, panga and snorkelling excursions and presentations are given on board. Beagle carries kayaks that can be used at certain sites permitted by the National Park. The use of snorkelling gear and wetsuits is included.
Accommodation
7 air-conditioned cabins, each with a double lower and single upper berth and a private bathroom.
Client comments and reviews
We were keen to sail on the Beagle as it had relatively few passengers, and therefore the shore landings etc would not be too crowded, but mainly because it is a sailing vessel and we are sailors. For us she was a great choice as it meant that we were sharing her with like minded people, who all seemed to get on well for the 8 days that we were together. - IM (May 2016)
The Galapagos week was just fabulous, everything we had hoped for and more! Thank you - big time. The Beagle is a terrific little boat and with the right other passengers just perfect for the week. - MF (November 2015)
Obviously the Galapagos was the highlight. There is something very special about walking around a world that belongs to birds and animals. We swam with Sea lions and turtles and watched dolphins surfing under the prow of the boat. We were right to choose this time of year. The boobies and frigate birds were nesting and the sea was relatively calm. I would recommend the Beagle without hesitation. The crew were very attentive, meals on board very good. Cabins were spacious. Because all the cabins were below deck the effect of the movement of the boat was minimised. Thanks to Stugeron and wrist bands we avoided any sea sickness. Finishing the holiday with the Galapagos is to be recommended I think. - RM (March 2011)
The snorkelling in the Galapagos islands with the dolphins, penguins and sealions was great! - DP (January 2009)
Our cruise on The Beagle around the Galapagos Islands was undoubtedly the highlight.
We did lots of snorkelling - the boat had sufficient wetsuits and snorkel equipment for everyone who wanted to use the boat's stock - and were twice "buzzed" by a sea lion. The general spaciousness and comfort of the boat, and quality of crew, naturalist and catering left nothing whatsoever to be desired. We each just had a single, short bout of seasickness on the first long navigation before we found our sea legs. And it was beautiful to travel under sail for an afternoon when there was sufficient wind. - SD (April 2007)
Beagle operates a 14 night programme which can be split into two 7 night cruises. The North-West Islands (Itinerary A) and the South-Central Islands (Itinerary B).
North-West Islands
Day 1 (Tuesday): Baltra (Bachas Beach)
Day 2: Genovesa (Prince Philip's Steps, Darwin's Bay)
Day 3: Santiago (Puerto Egas)
Day 4: Fernandina (Punta Espinosa); Isabela (Punta Vicente Roca)
Day 5: Isabela (Tagus Cove, Urvina Bay)
Day 6: Isabela (Elizabeth Bay, Punta Moreno)
Day 7: Isabela (Giant Tortoise Breeding Centre, Wall of Tears, Puerto Villamil)
Day 8: Santa Cruz (Los Gemelos), Baltra
South-Central Islands
Day 1 (Tuesday): Puerto Ayora (Charles Darwin Research Station)
Day 2: Floreana (Puerto Velasco Ibarra, Punta Cormorant)
Day 3: Española (Punta Suárez, Gardner Bay)
Day 4: San Cristóbal (La Galapaguera Beach, Isla Lobos)
Day 5: Santa Fé, Plaza Sur
Day 6: Seymour Norte, Bartolomé
Day 7: Sombrero Chino; Santa Cruz (Cerro Dragón)
Day 8: Santa Cruz (Caleta Tortuga Negra), Baltra
Standard
Lower double and single upper berths with air-conditioning and private bathroom.
Single
A standard cabin for single occupancy.
Christmas and New Year departures will incur a supplement.
There is a discount for children aged 7-11 when travelling with an adult and sharing a cabin.
Beagle has 1 dedicated single cabin, which incurs no supplement; there is a single supplement for all other cabins.